The Active Years & Beyond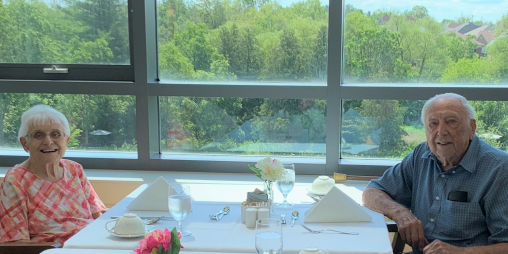 It was 2016, and Walter and Brunetta (Bernie) Russell moved into their new independent living suite at The Meadows of Aurora. In their 80s, Walter and Bernie were focused on a healthy lifestyle, and they were able to handle everyday tasks including shopping, cooking and cleaning. Their spacious 2-bedroom suite at The Meadows provided everything needed to live life to the fullest, entertain their friends and participate in on-campus community activities.
At the time they took possession of their ground floor suite in 2016, The Meadows consisted of a single independent living tower. The Russells were aware of the plan to develop continuum of care services as part of The Meadows' age-in-place vision. Their decision to choose The Meadows was based on the knowledge they would have access to the type and level of care needed down the road. That day came in 2021.
Today, Walter and Bernie are enjoying life as part of the assisted living community at The Meadows – a dedicated floor with private dining overlooking 14 acres of protected green space and a beautiful natural pond. They enjoy three gourmet meals daily, laundry service, housekeeping and unlimited access to a team of on-site health care professionals. Their family members are enjoying the comfort knowing their loves ones are in a safe environment and loving community.
Every morning, residents see 96-year-old Walter out for his morning walk around the neighbourhood. As he reminds people every morning, "As you get older, you gotta keep moving!".